Pleasures for the palate.
Mediterranean cuisine with a touch of chic gastronomy.
admin
Are you ready for a night that will make you vibrate with emotion? Welcome to Zak Rendez Vous, your destination of choice for a dining and entertainment experience that goes beyond your expectations. Located in [...]
admin
Celebrate the Verbena de San Juan at Zak Rendez Vous: A Magical Night full of Flavors and Fun! The Verbena de San Juan is one of the most anticipated festivities of the year, and at [...]
admin
Discover Zak Rendez Vous: Dinner Show with Live Singers in Sitges - Barcelona! If you are looking for a unique dining experience, full of entertainment and live music, look no further. At Zak Rendez [...]
Gastronomy
Because ZAK Rendez Vous is much more than a restaurant with a show, ZAK Rendez Vous is about sensations, enjoying a good dinner in the best company, great atmosphere and a show with attention to detail, following the line of the whole ZAK group.
Mediterranean cuisine with a chic touch. Our own elaborations with first class ingredients and to let yourself be surprised, discover it!
The Menu
We have created this menu, which consists of a variety of starters, a main course to choose from and an assortment of desserts, carefully taken care of down to the smallest detail so that you can enjoy good food on the nights of the musical show.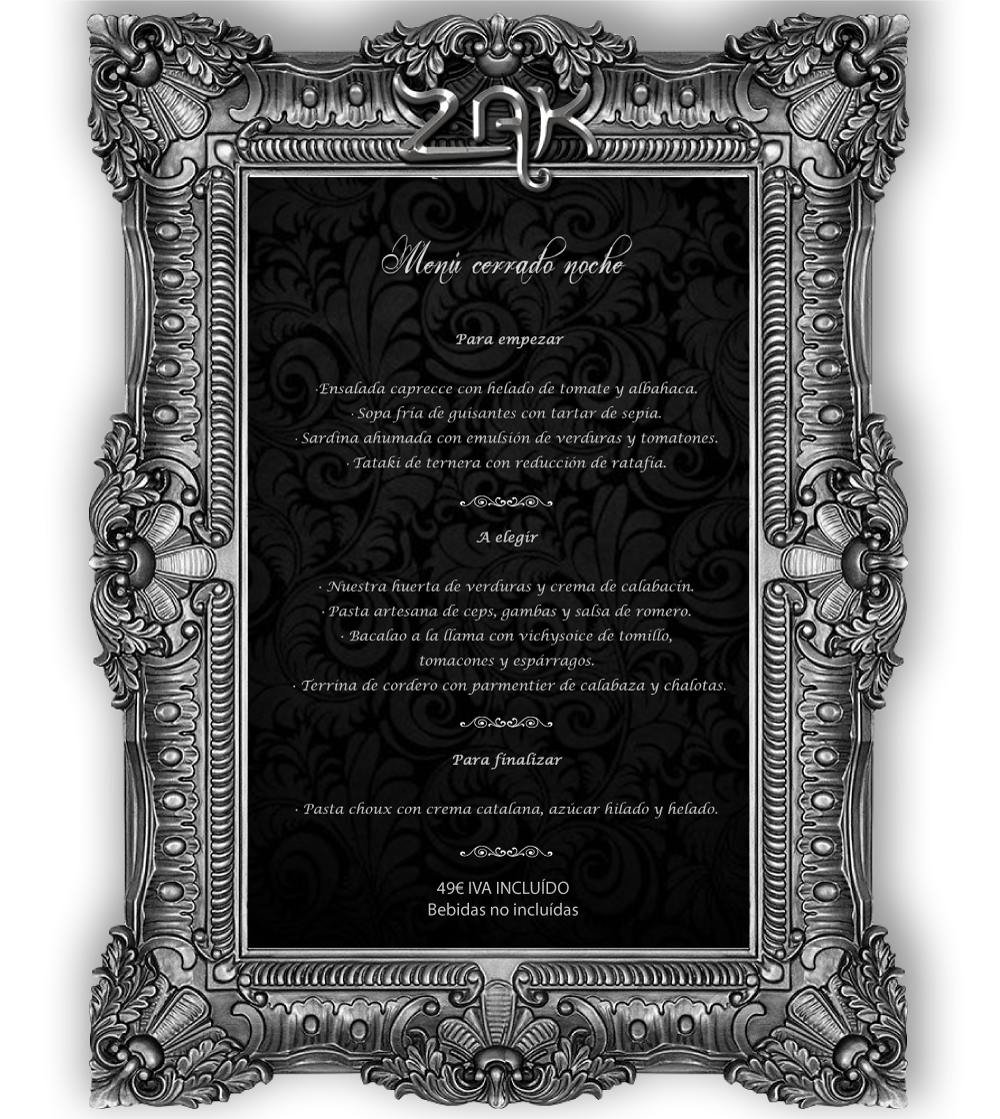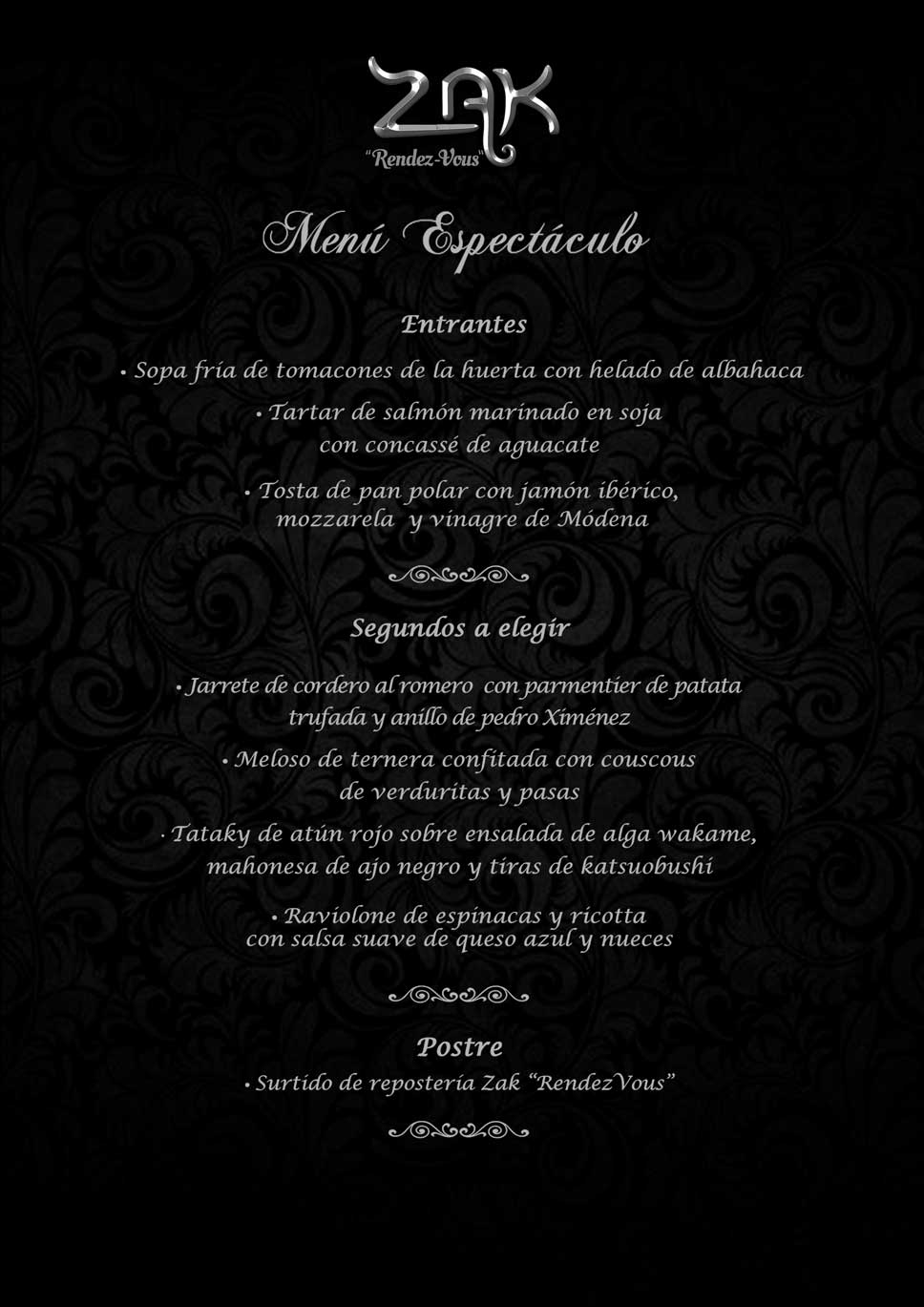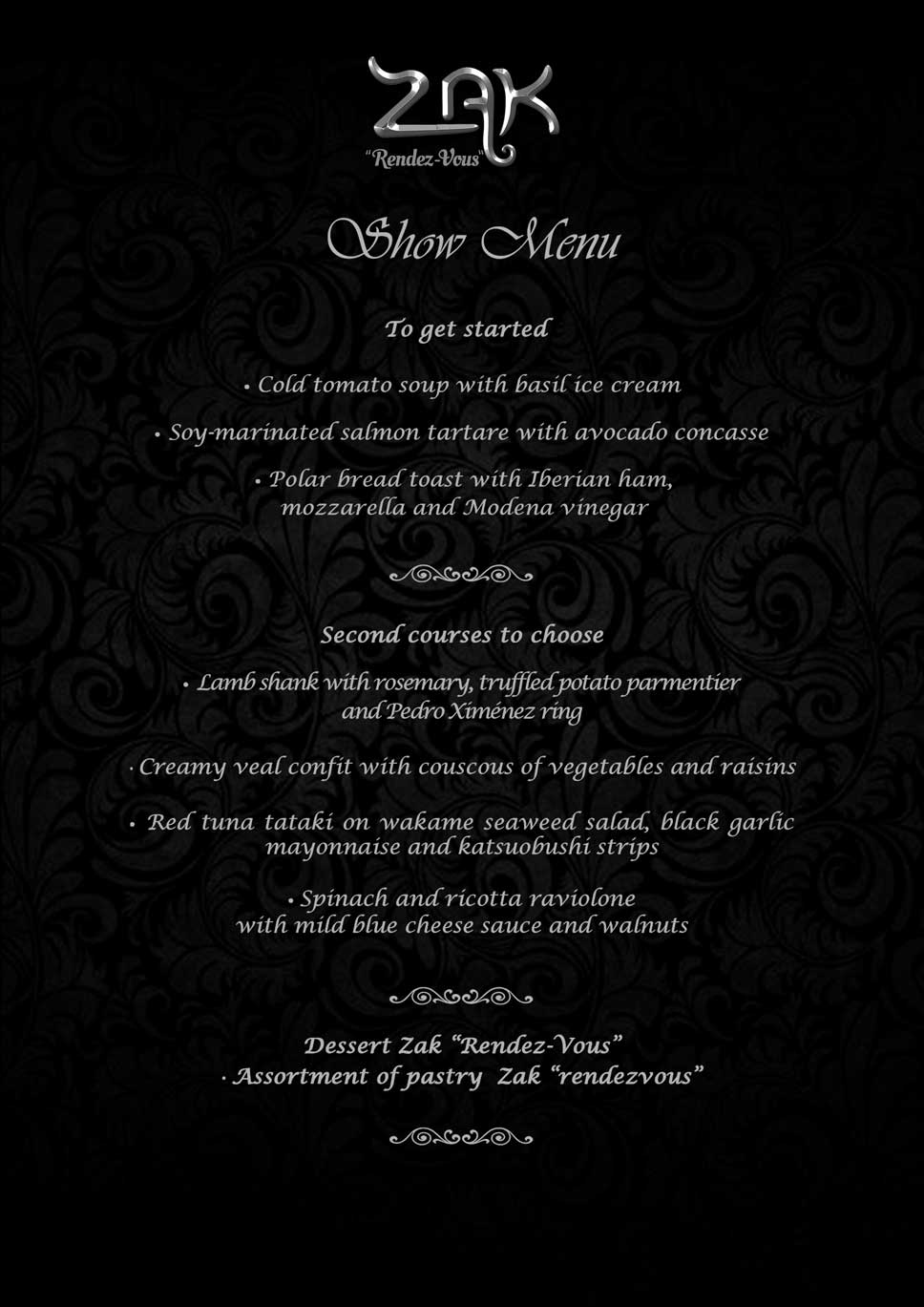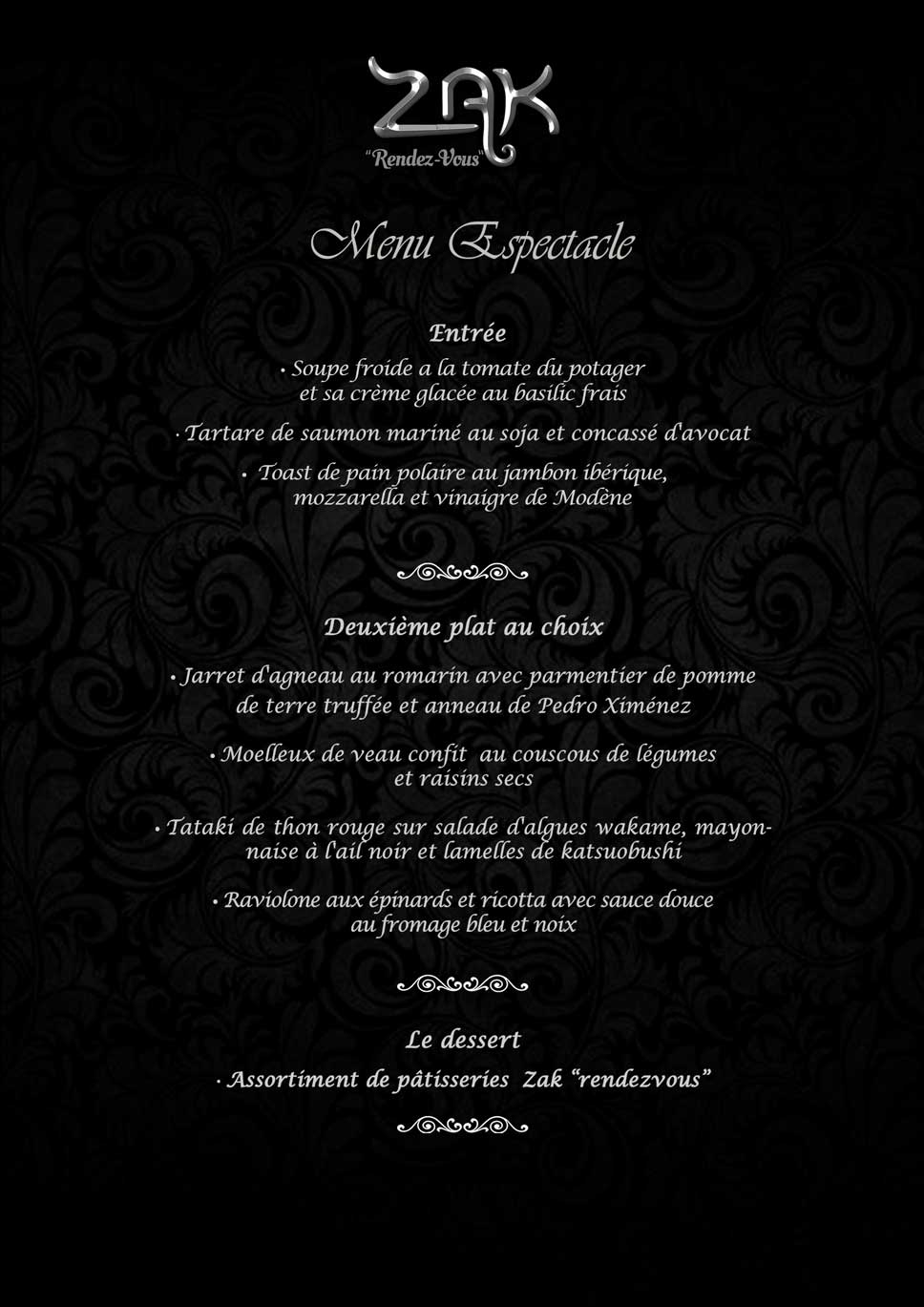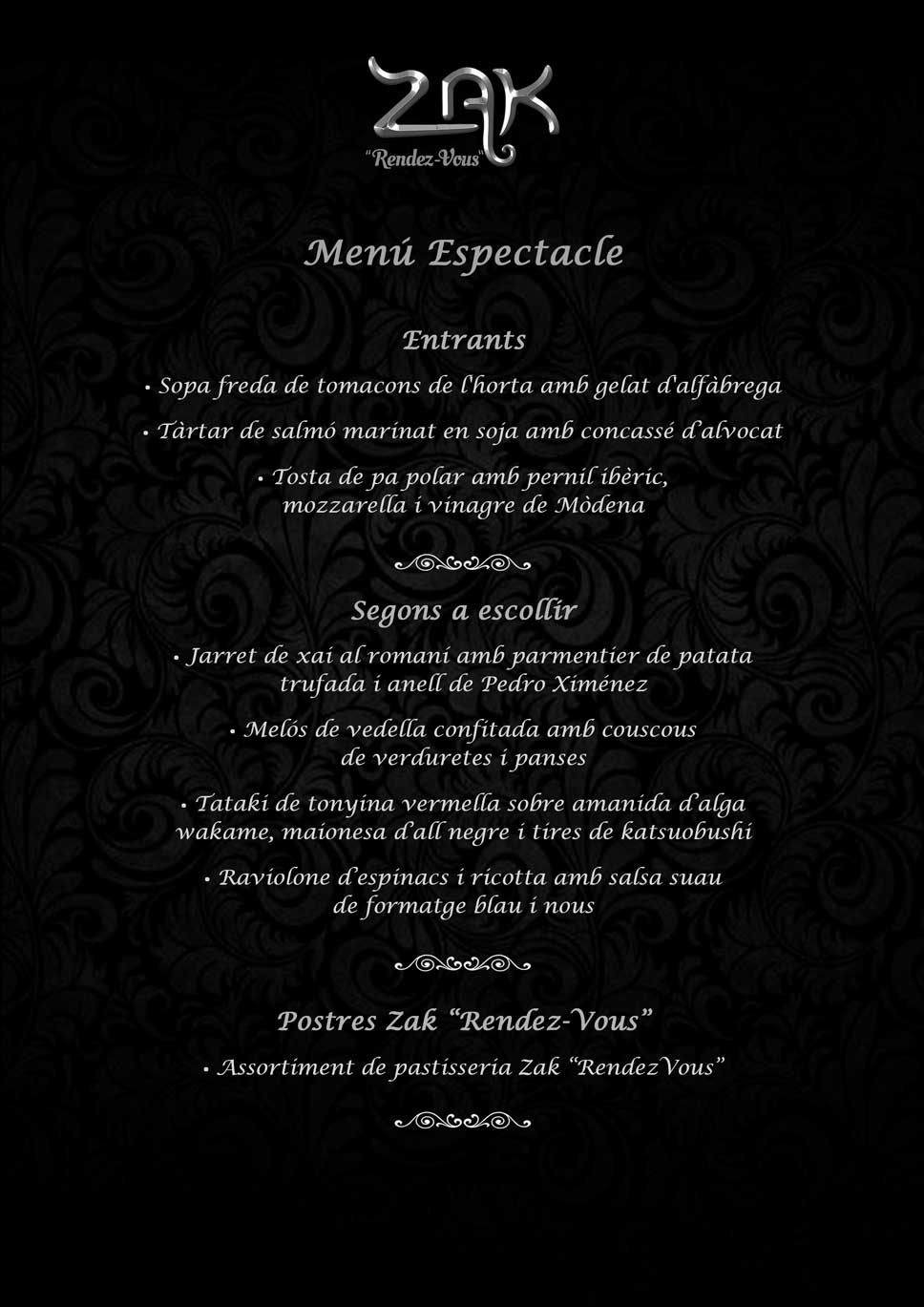 – And so you can fully enjoy your evening at ZAK Rendez Vous, if you have any intolerance or need to adapt your menu, please contact us and we will find the option that best suits your diet. –


Show
Different shows every night with a common thread:
"The Music".

Gastronomy
Mediterranean gastronomy with a chic twist
Cups
and of course, drinks so that the best moments do not come to an end
⭐⭐⭐⭐⭐
An unforgettable experience, attention to detail, a super attentive and friendly team is what really makes the difference. And artists of 10, so 10 that in some of the performances tears of emotion came to my eyes. An experience to be repeated. Thank you very much
⭐⭐⭐⭐⭐
It was our first time there and we were not sure what to expect, although it is true that the reviews we had read were magnificent. Well, everything is confirmed. A delicious dinner, impeccable service, the stage has good visibility from any point of the restaurant and wonderful artists. During the dinner the interventions are more paused leaving time to chat with your table and after the coffees comes the show of about 2 hours of duration. We went in at 8.30 and left later than 1 o'clock so it's a perfect plan if you want to have dinner, drinks and a show in the same place. We will definitely come back!
⭐⭐⭐⭐⭐
We went for dinner on a Saturday to do something different. It was indeed different!!!
Starting with the quality of the food, which surprised us very pleasantly.
The wine selection is very careful and accurate.
Continuing with the drinks, they even delighted me with a Patxaran in a wide glass!
And to top it all off, a musical and visual spectacle with attention to detail.
Highly recommended if you want to surprise and get out of the routine.
Lina Lopez
⭐⭐⭐⭐⭐
A wonderful show, with all the glamour of the world, unique and repeatable, artists of international stature. Thank you Javi and Isaac for making these majestic nights possible.
.
⭐⭐⭐⭐⭐
Nous avons passé une excellente soirée et tout était parfait. The setting, the welcome, the meal, the service, accompanied by a mega show.
A very diverse repertoire, very talented and professional artists. Merci à Zak et Ravier pour leur attention et leur gentillesse. Nous reviendrons avec plaisir.
Céline et Roméo 🤗🙏🏾
Come and enjoy a truly unforgettable evening.